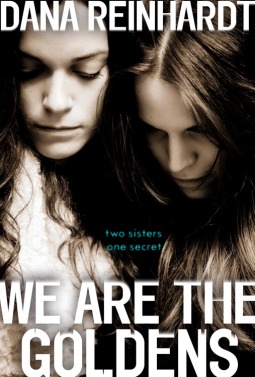 Dana Reinhardt
Nell knows a secret about her perfect, beautiful sister Layla. If she tells, it could blow their world apart.

When Nell and Layla were little, Nell used to call them Nellaya. Because to Nell, there was no difference between where she started and her adored big sister ended. They're a unit; divorce made them rely on each other early on, so when one pulls away, what is the other to do? But now, Nell's a freshman in high school and Layla is changing, secretive. And then Nell discovers why. Layla is involved with one of their teachers. And even though Nell tries to support Layla, to understand that she's happy and in love, Nell struggles with her true feelings: it's wrong, and she must do something about it.
You gotta admit that this book cover is nothing special (except for that creepy stare that girl on the right is giving). If I saw this in a store, chances are I wouldn't even give it a second glance. But this book is the prime example of why we shouldn't judge a book by its cover — though let's face it: absolutely NO ONE will ever listen to this piece of advice. Oh, you will? Didn't think so. I really enjoyed We Are the Goldens, despite the okay-ish cover and the fairly generic blurb. I mean, two sisters? One secret? I haven't only read that a million times. But Dana Reinhardt put a spin to a common contemporary novel about sisters and supposedly earth-shattering secrets with the addition of a very difficult and oftentimes tabooed topic: student-teacher romantic relationships.