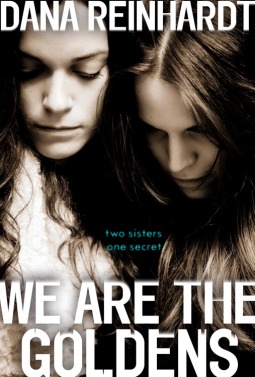 Dana Reinhardt
Nell knows a secret about her perfect, beautiful sister Layla. If she tells, it could blow their world apart.

When Nell and Layla were little, Nell used to call them Nellaya. Because to Nell, there was no difference between where she started and her adored big sister ended. They're a unit; divorce made them rely on each other early on, so when one pulls away, what is the other to do? But now, Nell's a freshman in high school and Layla is changing, secretive. And then Nell discovers why. Layla is involved with one of their teachers. And even though Nell tries to support Layla, to understand that she's happy and in love, Nell struggles with her true feelings: it's wrong, and she must do something about it.
You gotta admit that this book cover is nothing special (except for that creepy stare that girl on the right is giving). If I saw this in a store, chances are I wouldn't even give it a second glance. But this book is the prime example of why we shouldn't judge a book by its cover — though let's face it: absolutely NO ONE will ever listen to this piece of advice. Oh, you will? Didn't think so. I really enjoyed We Are the Goldens, despite the okay-ish cover and the fairly generic blurb. I mean, two sisters? One secret? I haven't only read that a million times. But Dana Reinhardt put a spin to a common contemporary novel about sisters and supposedly earth-shattering secrets with the addition of a very difficult and oftentimes tabooed topic: student-teacher romantic relationships.
I can't really decide which part was the best, honestly: the plot, the writing, the flow — this book was just unique in so many ways. For example, it is written like a sort of letter to Layla, the protagonist's sister, whom she refers to as "you." And while that may not sound all that appealing (trust me, I had my doubts in the beginning, too), I actually found that this kind of writing style brought me closer to the characters and helped me sympathize more with the huge struggle Nell faced throughout the story, which of course made me more emotionally attached to the story. In fact, I think this may have been the first time I've read a book with such a style of narrative; definitely a good experience!
Being the oldest of two other sisters, I found Nell's relationship with Layla strangely relatable. I mean, I absolutely adore my sisters, y'know, they're angels, I don't bully them at all… Hah, just kidding. We fight and argue just like any other ordinary family would, but I am closer to my second youngest sister, so I did understand what it felt like to have a really strong bond with a sibling. But here's the confusing bit: despite this connection we had, I still found the characters to be, I don't know, kind of dull. They had no particularly new characteristics about them, but the story itself was interesting enough to keep me reading, thankfully. There was definitely MUCH room for development in all of them, they were quite shallow. Though damn, I gotta hand it to Reinhardt for keeping things real: there isn't any kind of lovey-dovey stuff in here, and I liked that she didn't bother trying to cover up the bitchy side of high school, where you don't meet your true love, where not all cute boys end with happily-ever-afters. I can't tell you more because it would spoil the story for you, but what happened with Nell and a certain someone was a surprise for sure, and a welcomed one.
Okay, let's just get to the meat of the matter: student-teacher romantic relationships. Surprisingly, Reinhardt handled this subject incredibly well, because I found myself wanting it to take up more of the plot. Again, I like how she kept things real. The earth-shattering secret here wasn't just, "My sister's a lesbian," or "My sister's pregnant." Those are serious stuff, of course, but they're so common in literature these days. No, it was, "My sister is having a romantic affair with her teacher, and she doesn't know how much it's tearing her life apart." And gosh, does the author do a good job making me hate the guts of that smarmy teacher and cheering Nell on to do what's right, what's best for her sister, which is telling someone about it. Like I said before, I wish Reinhardt had written more about this because it really is an interesting subject, if an uncomfortable one (for me, at least), but oh well. You can't have everything.
We Are the Goldens may not be the best book on the block, but it definitely has its own unique charm, which is what makes it — golden. But in spite of the tackling of a difficult topic and how the author kept things real, this book wasn't very memorable. Could be because of the size — barely more than 200 pages long! So I guess what I'm trying to say is that I enjoyed this story, but I'm still on the fence about it. Go figure that out for yourself.
Who is this book for?
Sick and tired of all the generic YA contemporary plots? This book is for you — go get it from the library!
3.5 stars
 BOOK SPECS:
208 pages, e-galley from NetGalley (thank you!)
Published May 27, 2014 by Wendy Lamb Books
Purchase: The Book Depository + Amazon